Companies with MNC parentage trade at a substantial premium to their domestic counterparts. Most of these companies have been listed for many decades and have created huge wealth for the shareholders. But many MNCs operate in India through multiple entities which deprive the listed entity of full range of products and growth opportunities. The risk of that is now becoming increasingly apparent with increasing instances of new products being launched in the unlisted entities - bringing the underlying risks to the fore.

Author: N Balaji Vaidyanath - Crest Wealth Management
(Views are personal and not that of the company)

Long history of MNC wealth creation in India
Companies with foreign MNC parentage account for about 15% of the aggregate market capitalisation of listed companies in India. Most of them are of pre-1970's vintage, i.e., they were incorporated much before the 1973 FERA amendment and 1977 Janta Party government's diktat requiring foreign businesses to reduce parent stake below 40%. Many of these companies adapted well to the country and emerged the dominant players in sectors like FMCG, Auto and industrial manufacturing. As a result, they have created huge wealth for their investors. The fact that many of the MNCs are from the FMCG space - a sector which itself has been a huge wealth creator - has also contributed to their growing share of total listed market capitalisation. The Nifty MNC Index comprising of 30 companies is dominated by FMCG sector (51% weight), followed by Auto (14%), Pharma (9%) and Industrial Manufacturing (7%).

Rising valuation of MNC companies has also added to the wealth creation. MNCs enjoy a valuation premium on account of many factors that include: market leadership, management track record, lack of unnecessary diversifications (capital allocation), high dividend payouts as well as a superior perception on corporate governance.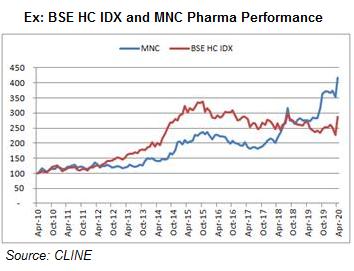 Pharma MNCs have outperformed in the past 3-years
The overall Pharma Index has been drifting down over the past 5-years due to pricing pressures in the US market. Meanwhile, the MNC Pharma pack has been moving up since May-17 and has far outperformed the BSE Healthcare Index. We have aggregated the market capitalisation of 6 MNC pharma companies that form part of the 66 member BSE-HC Index for comparison in the exhibit above. These 6 MNC companies trade at an aggregate of 52x as compared to the BSE-HC Index P/E of 37x on trailing twelve month basis.
But listed Pharma MNCs fair poorly when it comes to revenue growth
MNC Pharma companies have started trading at FMCG like valuations. But when you compare the revenue growth, then only 1 company has had double digit revenue CAGR over both a 3-year and 5-year time frame. Earnings growth and cash flows are also relevant for valuations in which they score well. But unlike FMCG, domestic pharma products face stiffer regulatory controls and see erosion in prices at regular intervals under Drug Price Control Order.
Misplaced Corporate Governance trust
Other promoter entities operating in competing or related businesses are a huge corporate governance red flag. But this hardly seems to be a bother for MNC companies with Indian entities contributing a very small share of their overall market cap. Many of them have multiple unlisted fellow subsidiaries operating in India with a couple of them having revenues larger than the listed entity. A couple of entities reported losses but that is due to the acquisition debt lying in the books on which it pays interest to the parent. Here are a few instances:
Abbott Healthcare Pvt. Ltd in addition to Pharma and Diagnostics gets 22% of revenue from nutritional products and houses the popular Pediasure and Ensure brands. After many failed attempts by multiple FMCG majors to break the duopoly of Complan and Horlicks/Boost in the malted food category, Abbott's brands have enjoyed relative success. The fruits of which are not enjoyed by the minority shareholders of the listed Abbott.
Pfizer Inc has two large unlisted entities acquired through global mergers including 2 large export oriented plants of Hospira; it earlier used to trade at a discount due to the issue.
AstraZeneca runs its global medicines development, business services, etc. via its unlisted entity.
Sanofi SA of France has a significant vaccines business that in India largely comes under Sanofi Pasteur India Pvt Ltd. It has other unlisted entities acquired in the past like Shantha Biotec and Genzyme (specialist in oncology).
These instances are not restricted to Pharma MNCs alone but are also seen in FMCG and Industrial sectors.
P&G's several popular brands such as Ariel, Tide, Pampers, Olay, H&S, and Pantene are housed in a separate larger unlisted entity.
Nestle launched its pet food business via Purina Petcare India Pvt Ltd. This is the first time Nestle has entered an entirely new business segment in India on its own since entering the market in 1912. Minority shareholders of Nestle India don't get to enjoy the benefits of a fast growing pet food category.
Colgate-Palmolive (parent) has entered the men's grooming category by picking a minority stake in Bombay Shaving Company.
Cummins has 7 other entities in India that make complementary products and components like turbo chargers, generators, filtration systems, lubricants but also competing products like CV and larger engines.
MNC premium is at risk in the post Covid19 world
In recent months, the Indian Pharma sector is back in the limelight as a prime beneficiary in the post Covid19 world of shifting supply chains. But unlike MNC engineering companies that use India as a base for exports, the growth prospects for listed MNC Pharma companies is limited as they focus solely on the domestic market. Moreover, even in the case of launching new products, vaccines or diagnostic kits for Covid19, these are likely to be brought in via the unlisted entities, letting the minority shareholders of listed MNCs continue to get the short end of the stick.

Having multiple operating companies though perfectly legal is a stark governance issue which the market has been ignoring for long, along with other issues like transfer of profits through opaque transfer pricing, higher royalties and fees charged by the parent company. As newer and high growth categories get launched via unlisted subsidiaries, the listed ones have to contend with the older and low growth categories thereby limiting their possible growth potential. Paying a huge premium for MNC Pharma similar to some FMCG companies, when these growth and corporate governance concerns could be catching attention, is a risky move.