Key Highlights:

Tata Steel India

- Q2FY19 production was higher mainly due to better plant availability; sales increased 7% QoQ with higher demand pull from market.

- Automotive & Special Products sales grew by 17%YoY to 552 KT in Q2FY19, mainly driven by higher demand from Auto Sector.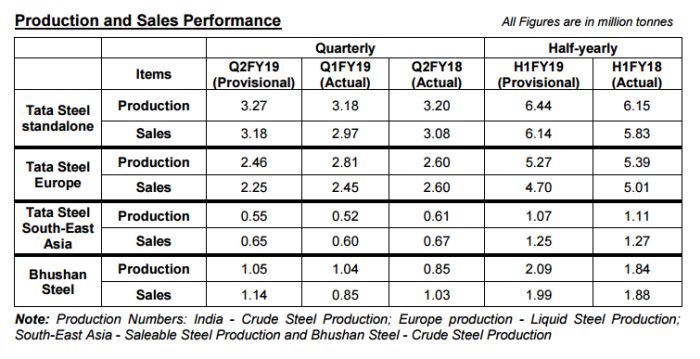 Tata Steel Europe

- Q2FY19 production was impacted by shutdowns for ongoing upgradation program, annual maintenances in seasonally weaker quarter; two unplanned outages also impacted production.

- Q2FY19 deliveries were lower due to lower production; further impacted by seasonality.

Tata Steel South East Asia

- Q2FY19 production improved on QoQ basis but was lower on YoY basis at both Tata Steel Thailand and Nat Steel. Nat Steel production was impacted by annual maintenance, other production related issues. Tata Steel Thailand production was lower in-line with weak demand in Thailand.

Bhushan Steel

- Q2FY19 sales increased 34% QoQ as improved marketing strategy helped in inventory reduction.

Shares of TATA STEEL Ltd was last trading in BSE at Rs.107.3 as compared to the previous close of Rs. 112.8. The total number of shares traded during the day was 865515 in over 4079 trades.

The stock hit an intraday high of Rs. 114.1 and intraday low of 101.55. The net turnover during the day was Rs. 90788187.