Tata Steel Limited has announced the data relating to production and sales (Provisional) for the period Q1 FY19.

Key Highlights: Tata Steel India

- Q1 FY19 production is higher than Q4 FY18 mainly due to better plant availability at Kalinganagar.

- Automotive & Special Products has achieved highest ever quarterly sales of 557 KT in Q1 FY19 due to stronger demand and new product approvals.

- Branded Products and Retail business has achieved highest ever Q1 sales of 975 KT registering a growth of 12% compared to 873 KT in Q1 FY18.

- Overall Engineering Segments have registered 70% YoY growth with 97 KT sales in Q1 FY19 against 57 KT sales in Q1 FY18.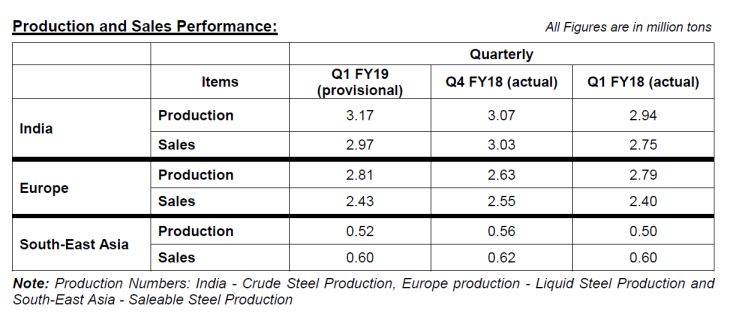 Key Highlights: Tata Steel Europe

- Production in Q1 FY19 is higher due to improved plant availability.

- Deliveries in Q1 FY19 were marginally better than Q1 FY18 in spite of the action under Section 232 by the US which created some uncertainty.

Key Highlights: South East Asia

- Production in Q1 FY19 is lower compared to Q4 FY18 due to planned annual shutdowns at Tata Steel Thailand.




Shares of TATA STEEL LTD. was last trading in BSE at Rs.554.15 as compared to the previous close of Rs. 553.5. The total number of shares traded during the day was 436980 in over 5689 trades.

The stock hit an intraday high of Rs. 564 and intraday low of 547.05. The net turnover during the day was Rs. 243297475.