Goa Carbon Limited is a company involved in manufacturing CPC (Calcined Petroleum Coke) from 3 of its manufacturing units located at Bilaspur, Goa and Paradeep. The company announces the production quantity, production value and sales quantity publicly every month.

The price of CPC (Calcined Petroleum Coke) has been on an upswing for the last few quarter, which has enabled the company post excellent performances in the last few quarters. The stock price of the company has been on a relentless run in the last 1 year. The stock has hit a 52 week high of Rs. 1215.40 and 52 week low of Rs. 124.30.

The company had shutdown of its Goa and Paradeep Plants during the quarter ended March 31, 2018 for maintenance. This has resulted in reduction of production of CPC and inturn in the sales of the company during Q4 FY17-18.

The company is scheduled to announce its quarterly results on April 11, 2018.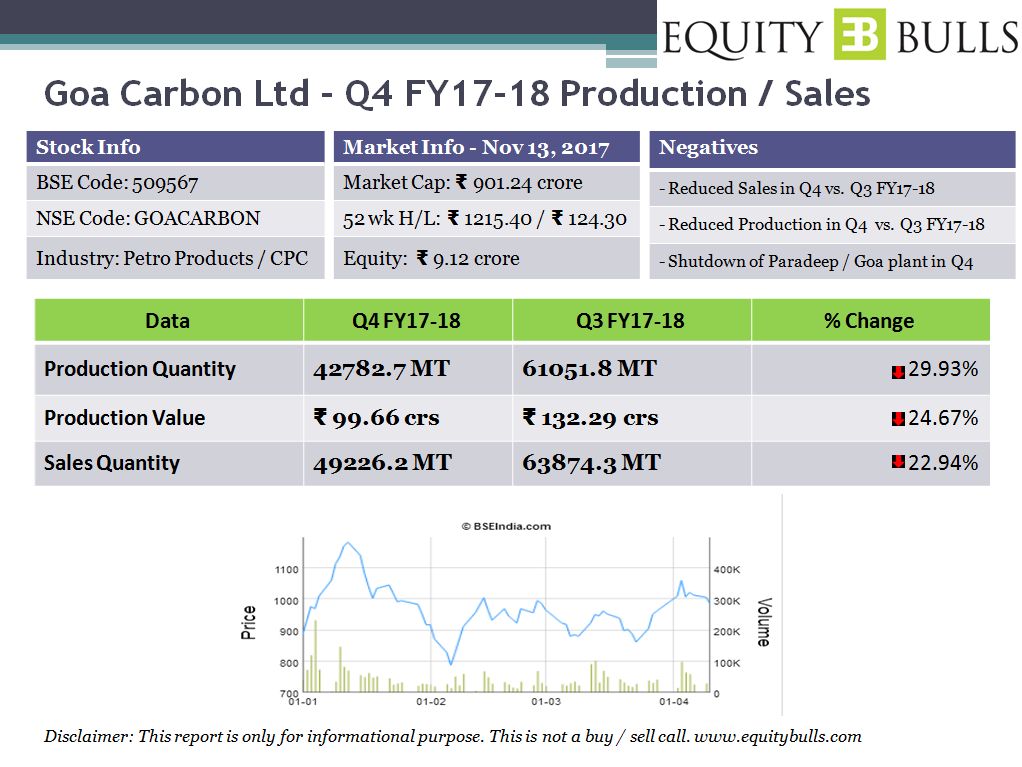 The company's production in Q4 FY17-18 has reduced 29.93% quarter-on-quarter at 42782.7 MT as against 61051.8 MT in Q3 FY17-18. The reduction in production has reduced the production value by 24.67% at Rs. 99.66 crores during Q4 FY17-18 as compared to Rs. 132.29 crores in Q3 FY17-18.

The company's sales quantity in Q4 FY17-18 has reduced 22.94% quarter-on-quarter at 49226.2 MT as against 63874.3 MT in Q3 FY17-18.

The below table gives an assumption on the sales amount for Q2 FY17-18 that Goa Carbon Ltd might post based on various realizations. It is just an assumption and not real sales value.





Shares of GOA CARBON LTD. was last trading in BSE at Rs.984.85 as compared to the previous close of Rs. 1006.65. The total number of shares traded during the day was 24927 in over 1148 trades.

The stock hit an intraday high of Rs. 1024.95 and intraday low of 977.9. The net turnover during the day was Rs. 24759307.